St Anne, ST ANNE'S
Bristol
Viewed from Salisbury Road, the church appears just the same as it was built in 1902-1905. It is a large church, built of the local Pennant stone with Bath stone dressings in a Decorated Gothic style. The architect was H.M.Bennett. The church as built consists of a five-bayed nave with four-bayed aisles, and transepts in the wider east bay. Chancel of almost full height with side chapels. A tower was not planned, instead there is a west double bellcote, but with only one bell today. The west front is of some merit and the portal is rather ornate.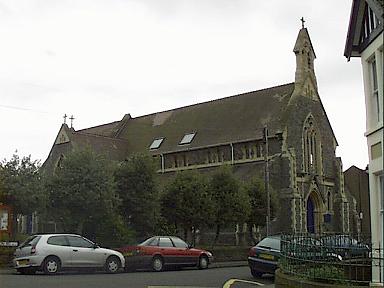 Seen from the north-west, there is a clear indication that something has happened to the church, as roof lights appear in the eastern half of the nave. Indeed as we shall see, the church has been subdivided internally.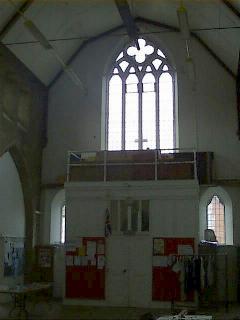 In September 1940 a bomb fell on the steps in front of the west door of the church, the explosion wrecking all but four of the windows and destoying the door casing. The west wall outside still bears marks today of the blast. Nothing but a tarpaulin covered the entrance for nearly a year but such was the dedication and hard work of the parishioners that a wedding planned for the weekend was still able to take place in the damaged building.
This main entrance however today leads into the parish hall. A new less ornate - well frankly makeshift - doorcasing has been built. The aisles have been blocked off by blocking the arches and extra light is obtained by four modern roof-lights. A kitchen and new vestry have been created in the south aisle.
The church now occupies the transepts and east end of the former church. The picture on the left shows the view towards the altar. Here is the only skillful part of the subdivision, given that, above the reredos panelling, the former arch is filled by panels of mirror glass (with darker glass in a cross set into this too) to give the illusion that you are looking into the church beyond when it is really what is behind and all around you. Elsewhere much white walling. Turn around and the gaunt five-light east window with plain glass and now no reredos below is set in a plain white wall. Oh for some stained glass here, to reduce the glare.
On the day I visited a lunch club for pensioners was being prepared in the south aisle kitchen and a chance meeting with one of these ladies led me to the picture below. The church was never top-class architecture but I know what I prefer. In comparism with the later subdivision of nearby St Christopher this is badly done, and is beginning to show its age too.
The church is usually locked in the day.
Back to Bristol churches Index
page created 8th March 2000