St Luke, BEDMINSTER
Bristol
1860-1970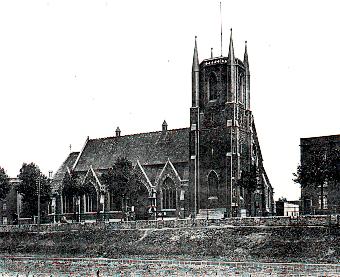 Situated close to Temple Meads railway station, this church was a fairly large building, built 1860-61 to the designs of John Norton, who was also responsible for Stapleton Parish Church. It stood in York Road on the eastern corner with Spring Street, to the south of the tidal New Cut, a new course for the River Avon constructed by French prisoners of war 1804-09.
The church had a tower at the north-west corner, which had an octagonal upper stage, with four tall angle pinnacles reaching from the stage below to above the parapet of pierced quatrefoils. These pinnacles and the parapet were sadly removed in alterations by P. Hartland Thomas in 1933.
So the view I grew up with featured a rather gaunt tower with tall two-light bell-openings in the main directions, and cross-gabled aisles. In the third bay of the north aisle, towards the main road and river, was the main entrance, not really a porch, more a slightly projecting portal. Over the door was the inscription "The Poor have the Gospel preached unto them". Noble Decorated tracery to the four-light aisle windows and the large six-light west window of the nave. These helped light the interior as there was no clerestory above the six-bayed arcades.
These photographs show the quality of Norton's design and give an impression of the size of the church. Although the interior was fairly bare, being "low church" in rite, and there seems to have been little embellishment of the church (stained glass, screens, memorials, etc.), the proportions are excellent. The wall arcading below the apse windows is a nice touch, and the original sanctuary was raised six steps above the nave. Taken shortly before the church closed, these pictures show that the altar had been brought forward into the nave and the choir stalls were arranged behing it. The emptying of the chancel brought considerable dignity.
St Luke's was closed in 1968 and demolished in 1970. Nothing survives. Flats now stand on the site and an important piece of river-front architecture was lost forever.
The new photographs on this page are from the archive of Rev. D. Cawley, with permission.
Back to Bristol churches Index
page updated 16th June 2014