The church of St Gabriel was built in 1868-70 by J.C.Neale in a similar style to his earlier St Andrew the Less in Dowry Square, Hotwells. It was built primarily of red brick, with decoration in blue and yellow brick. It stood in the way of the planned outer circuit road (now Easton Way), was declared redundant and then declared unsafe and demolished with indecent haste in 1975, the day the church was "listed" for preservation.

Contrast the picture above depicting church as originally built showing the tower with a spire and the picture to the right. The first picture was taken before A R Gough altered the church in 1928, by removing the spire and replacing it with a brick parapet.
The architecture was remarkable although not exactly beautiful. In plan the nave was aisleless but had a strange SW porch with hipped roof connected to the church by a short cloister-like passage. The nave had closely set single light side windows with exquisite patterning of brickwork. The transepts were doubled which enabled a two-bayed arcade to be constructed inside. The tower stood in the corner of the S transept and chancel. Neale balanced the tower and the porch on the north side by a third gabled outer bay at the east and a gabled doorway at the west.
The clearances are underway when this final pair of pictures were taken. The church's days too were numbered.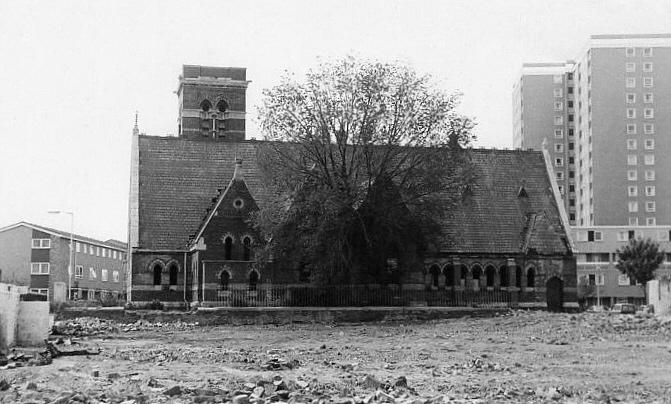 The church hall, inscribed St Gabriel's Mission, still survives in Goodhind Street. Is this the proposed building for St Gabriel mentioned on Church Plans Online for 1913?

[picture Neil Marchant]
Back to Bristol churches Index
page updated 6th July 2009