Our Lady of the Rosary (R.C.)
LAWRENCE WESTON
Bristol
For many people this church is one of the first buildings they see in coming down the hill from King's Weston house towards Avonmouth. Built of brick in two stages, the first 1952-3 saw the nave and aisles completed, with the tower, baptistry, side chapels and sanctuary following in 1957-8. Modern in style of brick but to a traditional plan. The windows appear almost domestic.
The interiorshows that the aisles are mere passages. Notably wide nave lit by the tall clerestory of single lights. Circular piers support the clerestory. The warm red colour adds a touch of luxury to the otherwise plain and functional building. There is the expected gallery at the west end of the nave.
The sanctuary is slightly narrower and has no window; instead the wall is relieved by a cross.
One anomaly in the church is the font in the baptistry. This looks to me to be a Victorian embellishment, presumably from another church, but which?.
CONVENT CHAPEL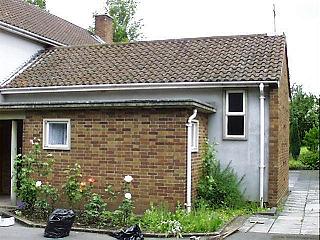 Alongside the church is a convent (Sisters Servants of the Holy Ghost), and in the front garden is a statue of Our Lady. The convent is a large house of the late 1950s or 1960s with a chapel built on to it. The head of the house kindly showed me the interior of the church and the nuns' private chapel, in fact I interrupted her gardening as you can see! She was really nice. This is the small appendage chapel to the house and the entrance porch to the convent. Not totally unlike a garage with a gable cross.
Inside small and unremarkable, yet peaceful and private. The chapel has some interesting ceramic stations of the cross mounted on the south wall which were difficult to photograph. Apart from this the house itself looks completely domestic, which of course it is! No cloisters, the dining room may be a refectory, and perhaps the bedrooms the cells. Is the sitting room the calefactorium? Anyhow the chapel opens off the hallway, or lower cloister I suppose!
Page created 27th January 2001
Back to the Bristol Churches List